IN A -NO WORRIES- ATMOSPHERE

AFTER SUCCESSFUL REOPENINGS
Responsible Author: Ruby BIRD & Yasmina BEDDOU (Journalists/Directors) | PARIS - LAS VEGAS, 06/26/2020, 10:54 Time
USPA NEWS -
Caesars Entertainment Corporation ("Caesars", "Caesars Entertainment" or the "Company") announced on June 25, plans to resume operations at Nobu Hotel Caesars Palace in Las Vegas on Thursday, July 2 at 10 a.m. Pacific Time, following the successful reopenings of Caesars Palace Las Vegas, Flamingo Las Vegas, Harrah's Las Vegas, and Paris Las Vegas. The LINQ Hotel + Experience also successfully reopened its gaming floor and other amenities recently. Nobu Hotel, the boutique hotel within the larger Caesars Palace destination resort, will be offering luxurious guest rooms and suites including the extravagant rooftop Nobu Villa, one of the world's largest Nobu restaurants – which reopened June 5 – and access to its exclusive fitness center.
Musicians deal with Covid-19 Adversity
Responsible Author: Robbie Merritt | Sydney Australia, 06/21/2020, 06:47 Time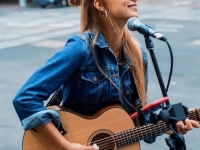 USPA NEWS -
"Like many musicians all over the world , Covid-19 took away my stage, my income, my audience, my living, my life and I can still smile because I am healthy". said Evelina Ross on the release of her new Single ' SLOWLY'.
I was honored to meet an amazing street musician in Australia who would draw an amazing crowd with her charisma and pitch perfect vocals. Sydney is a culturally less of a place since she left to Mexico after Covid-19 forced all Performers to stop in the City because of social distancing laws and the crowds she drew were many. Not wanting to risk hefty Government fines for drawing crowds with her unique voice, she relocated before lock-downs prevented more dilemmas. I asked Evelina Ross the bubbly Polish Actor and Musician how her life has changed because of Covid-19.
Evelina, you recently moved to Mexico from Sydney, how has Covid-19 effected your life as a street performer?
| | |
| --- | --- |
| | Daren Frankish |
| | RAHMA-SOPHIA RACHDI |
| | Ruby BIRD |
| | Yasmina BEDDOU |
| | Aurangzeb Akbar |